Dads are always busy doing things. Whether they're hard at work or just taking care of all the things on the honey-do list, dads show their love by all the things they do. That's why it's so important to remind dads that it's important to take time for themselves.
Self-care may not seem important for many men, but too often without time for themselves dads end up with parental burnout.
"When you neglect self-care, it can cause a domino effect of unhealthy and unpleasant things to happen. You may begin to experience feelings of sadness of loneliness, struggle with feelings of low self-worth, and feel as if you aren't doing well enough. You may also experience physical symptoms such as weight gain or insomnia, and more. That's why self-care for dads is so essential. It keeps your life in balance.

When we hear the term self-care, we often think of spa days or binging on snacks and our favorite television shows, but it's so much more than that. Self-care includes your emotional wellbeing, your physical wellbeing, and your social life. Creating a balance of all of these elements is a must if you want to function at your very best."
Here are SEVEN things you can do to make time for yourself when you're feeling parental burnout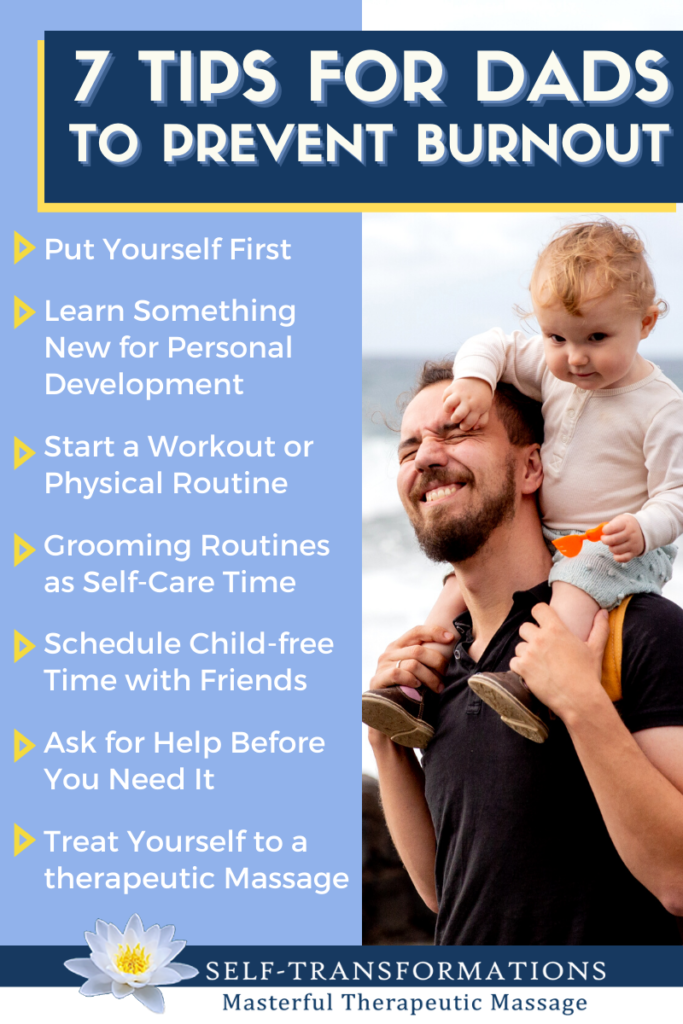 1. Put YOURSELF first. It's easy to put yourself last when you're a busy parent. Make yourself a priority by dedicating time in your busy day to taking your of your physical & emotional needs.
2.  Learn Something New for Personal Development. As a father, you're always trying to better yourself. Expand your thinking by taking a course, listening to a podcast or reading a new book.
3. Start a Workout of Physical Routine. We all know exercise is important, but making time for it can be a struggle. Create a routine to include more physical activity into your schedule.
4. Your Grooming Routine can be Self-Care Too. The most basic form of self-care, your regular grooming. Try a new skin care routine or commit to scheduling regular haircuts for yourself.
5. Schedule Child-Free Time with Friends. Your social health is just as important as your emotional wellbeing. Make time to develop your relationships with other adults.
6. Ask for Help BEFORE You Need It. Open up with a friend about how you're feeling. They may have coping strategies to share. When you ask for help before you need it, you can avoid crisis.
7. Get a Therapeutic MASSAGE. What is missing on this list is massage! How long has it been? Massage is not meant for just vacations and special occasions, there is actual science for how it helps reduce stress and anxiety over time. A therapeutic massage releases any stored tension, aches and soreness in your body. When your body feels safe & relaxed, your overall wellbeing improves too.
"Dads, we know your schedules are jam-packed. That's part of what makes developing a self-care plan so essential. It's easy to say that you will set aside time next week to schedule all your  appointments, but it's also easy to either forget or push it off. Everyone does it. For this reason, using time management skills to create a plan might be the best route to take.

Try putting reminders in your phone every Sunday for the things you have to do that upcoming week. And hey, you don't have to stick to your plan all the time. If a spontaneous opportunity arises to get in some more self-care and you can do it, take advantage of the moment and get your self-care on!"
Whatever tips you decide to use, I hope you continue to make yourself a priority!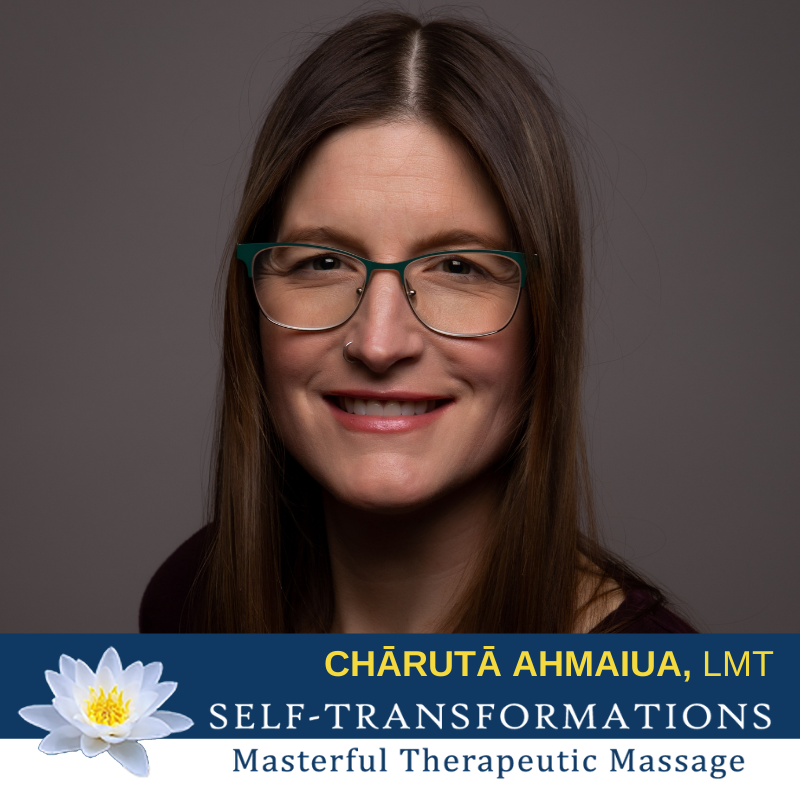 Owner of Self-Transformations Massage
---
#parentalburnout #burnoutdad #dadselfcare #fathers #selfcare #selfcaretips #therapeuticmassage