Here at Self-Transformations massage, we believe restoring one's body to optimal health is a partnership between client and massage therapist.  We have over 25 years collective experience offering effective, customized and advanced therapeutic massages designed to get our clients out of pain and back on track doing what they love as quickly as possible.  We also educate our clients so they can truly maximize the benefits of massage in between sessions. 
A beautiful lotus flower grows from muck… what if you could take your current aches and pains and use them in creating an even stronger, healthier body?  That would be incredible, right?  That is what we do, we use our massage skills as tools for your body-awareness, healing and self-transformation. 
Gain lasting relief from pain and discomfort through masterful therapeutic massage!
What's New at Self-Transformations
We're Growing & Transforming!
We're moving into our very own clinic in the New Year! Along with our beautiful new offices, we're taking the opportunity to evolve our branding. Check our our new logo & find our more about our new location
More Gift Giving Options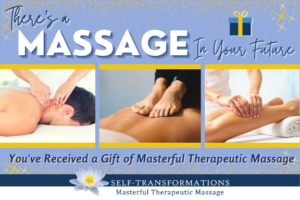 We've made it easier for you to give the gift of therapeutic massage! We now offer both Physical & Digital gift card options. Send it now or schedule a future delivery. They're sure to enjoy the massage in their future!