Customized Massage Trainings for Everyone
Customized Personal Massage Training for Individuals, Couples and Families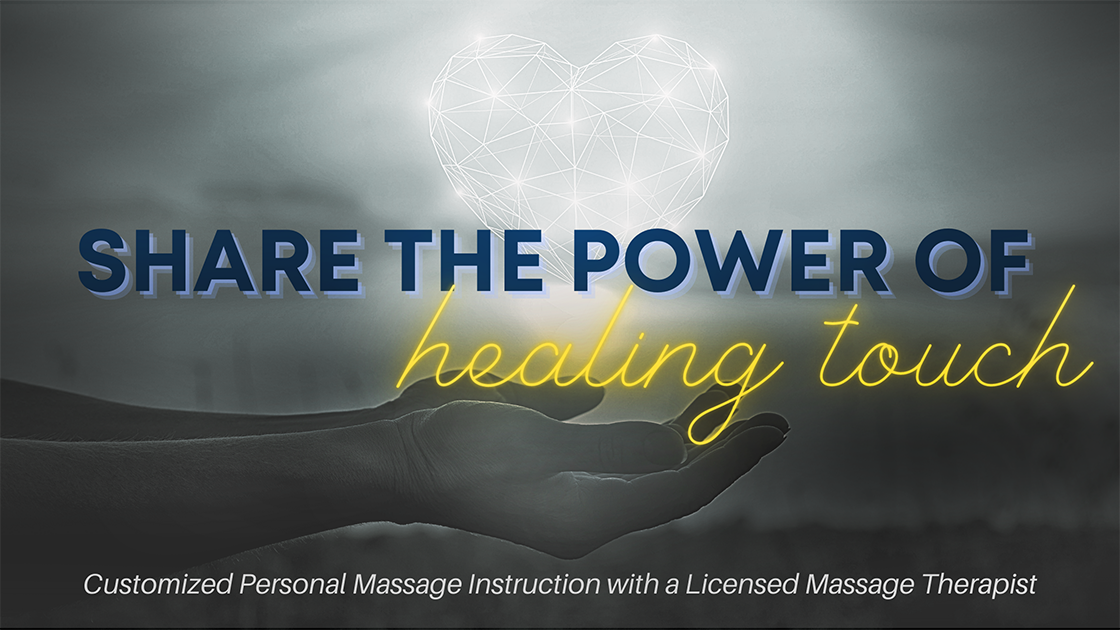 Share the power of healing touch with your loved ones  
Learn personal therapeutic massage techniques from a licensed massage therapist
Do you wish you knew how to better support your loved ones when they are stressed out or hurting from a long day of work or school?
Do you tire easily or feel insecure because you don't know how to massage "right"?
Do you wish to deepen your connection with loved ones?
Consider scheduling a customized 2-hour training for up to three loved ones.
Participants Can Expect:
To learn specific, easy-to-remember skills to help your loved ones need when they are sore or stressed

To learn basic anatomy in order to give a safe and effective massage

To learn a way to give a massage that will not tire you out in the process

An easy to follow handout of everything you have learned to take home

All supplies will be provided

Everything will be customized to your specific interests

To have a lot of fun and deepen your connection to your loved ones.
Receive Updates & Special Offers
We respect your privacy & will never share your information
Contact Us
Mailing Address:
1225 Ken Pratt Ste137
Longmont, CO 80503
Phone number:
(720) 329 - 6420
Email:
info@self-transformations.com
​Our Business Hours
Sundays   10 am to 6 pm
Mondays  10 am to 7 pm
Tuesdays 9:30 am to 7 pm
Thursdays 9:30 am to 7 pm
Wednesdays 2 pm to 7 pm
Fridays  10:00 am to 7 pm
Many Saturdays 10 am to 2 pm
The Important Details:
$90 per Adult, $50 per child –

minimum of 2 participants.

$25 off the total price for families or co-worker groups of 3 attendees

$25 off the total price if you refer another household that books a customized training at a future date. 
Wear loose fitting clothing and bring a snack

Plan for 2.5 hours with breaks